Regular price
Sale price
$39.90 SGD
Unit price
per
Sale
Sold out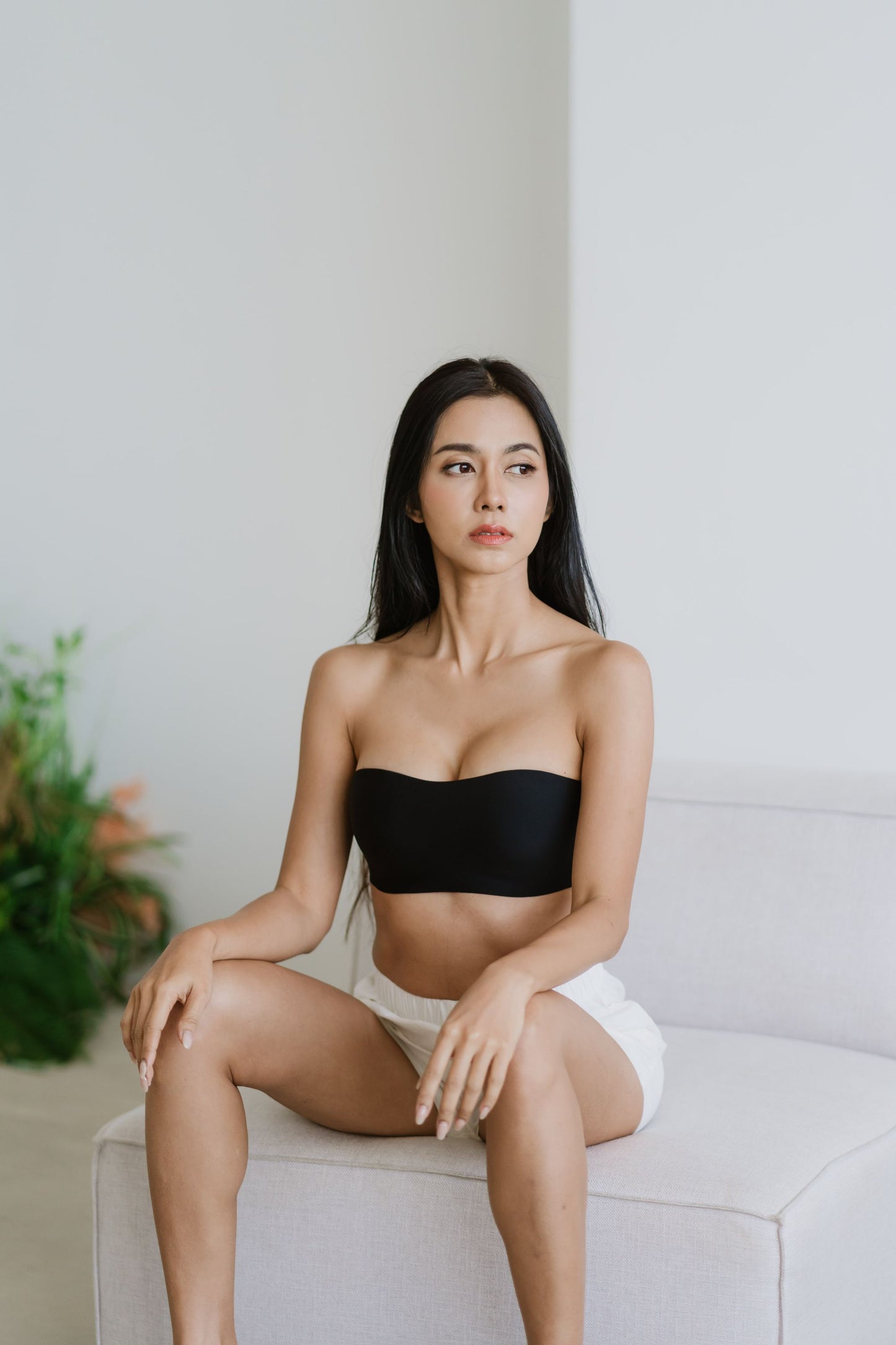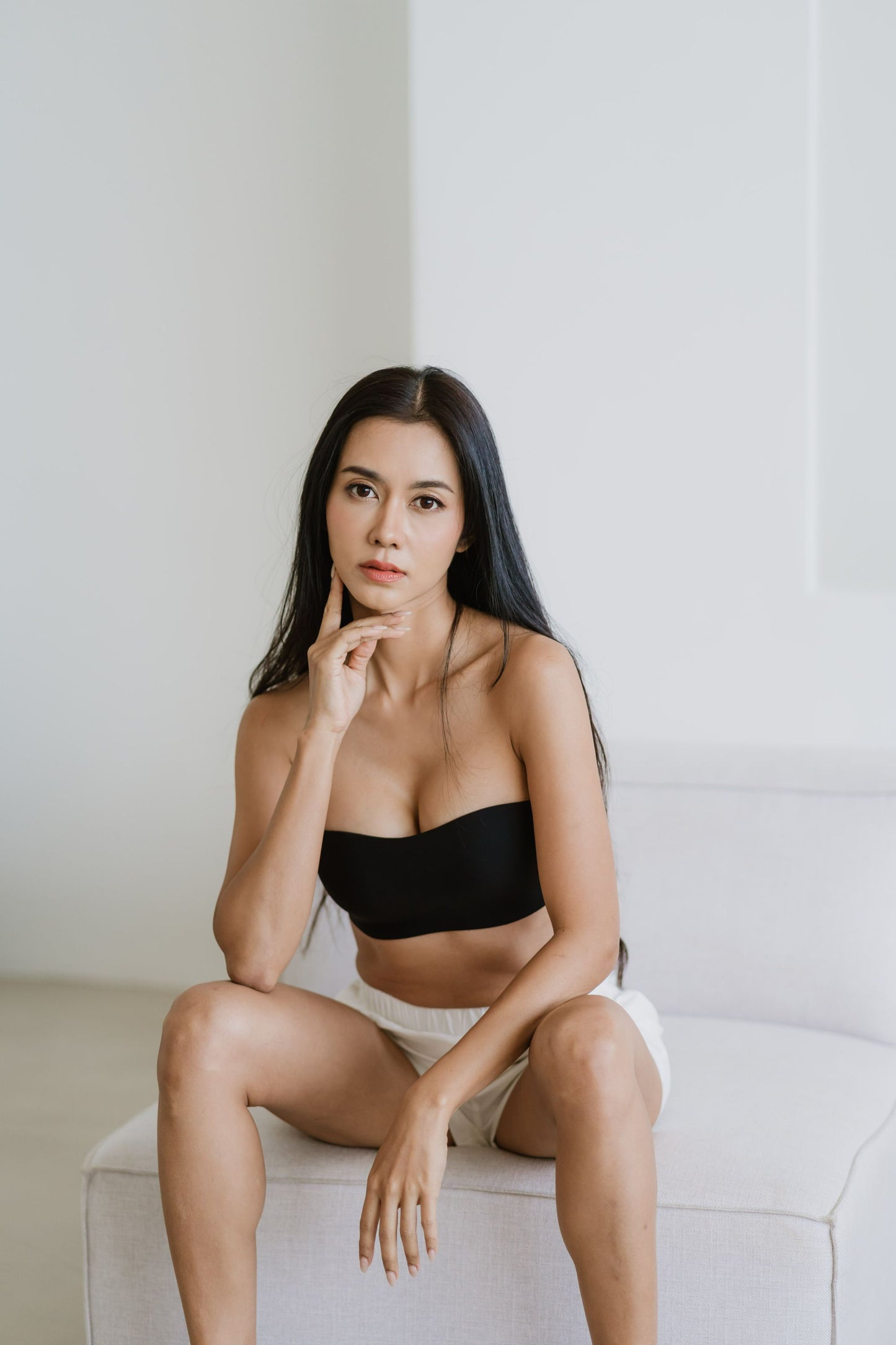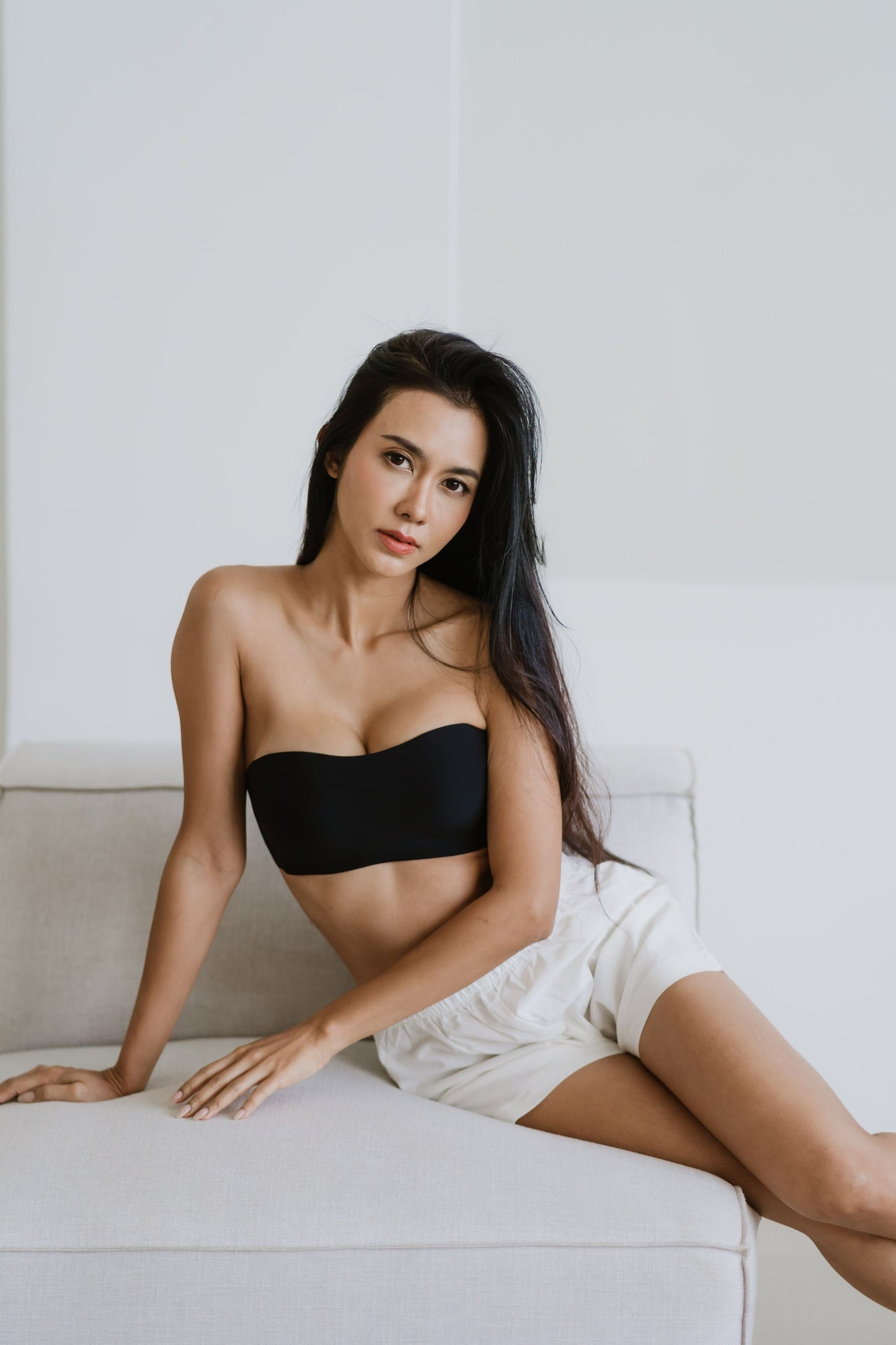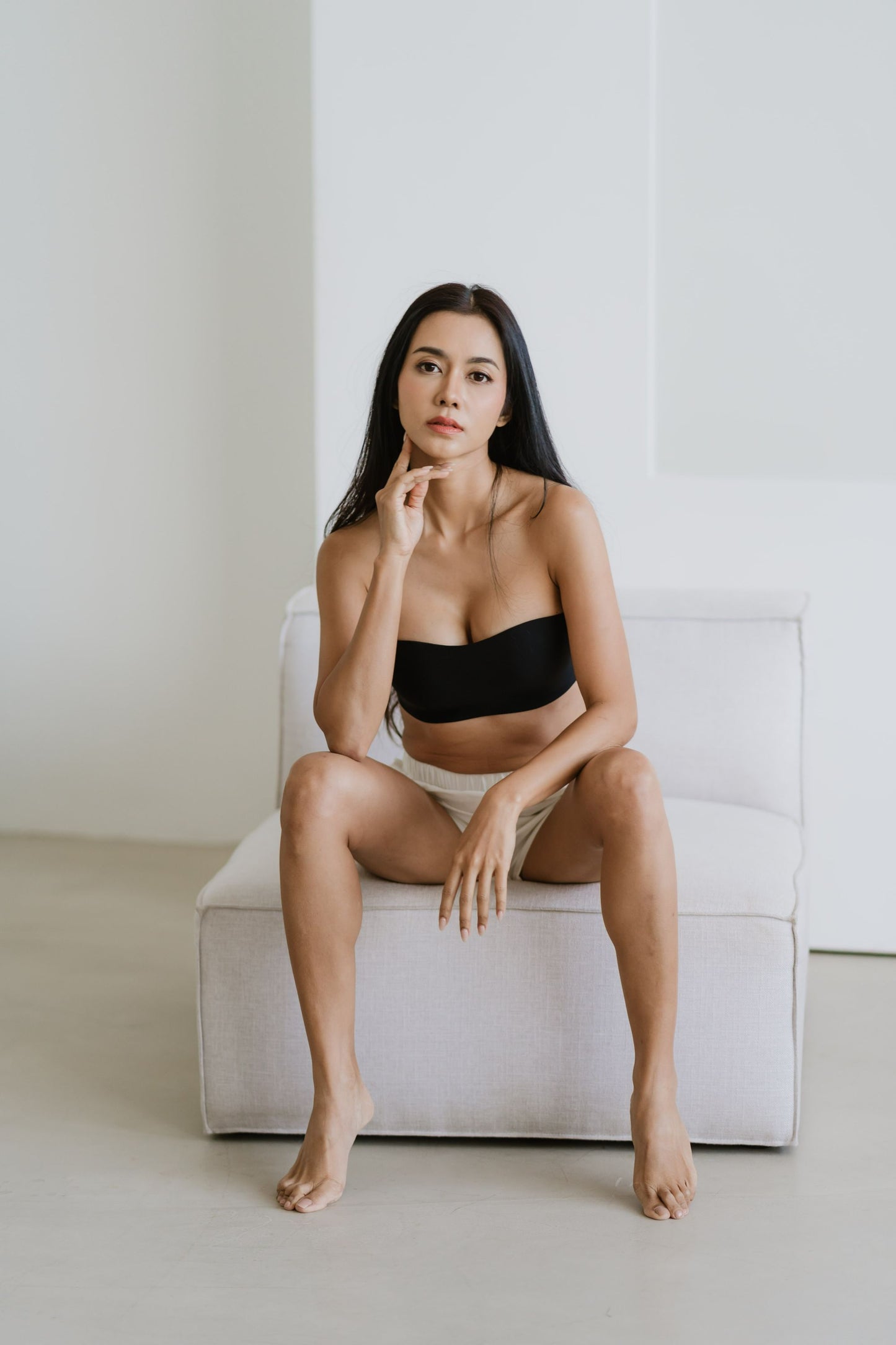 Sizing Chart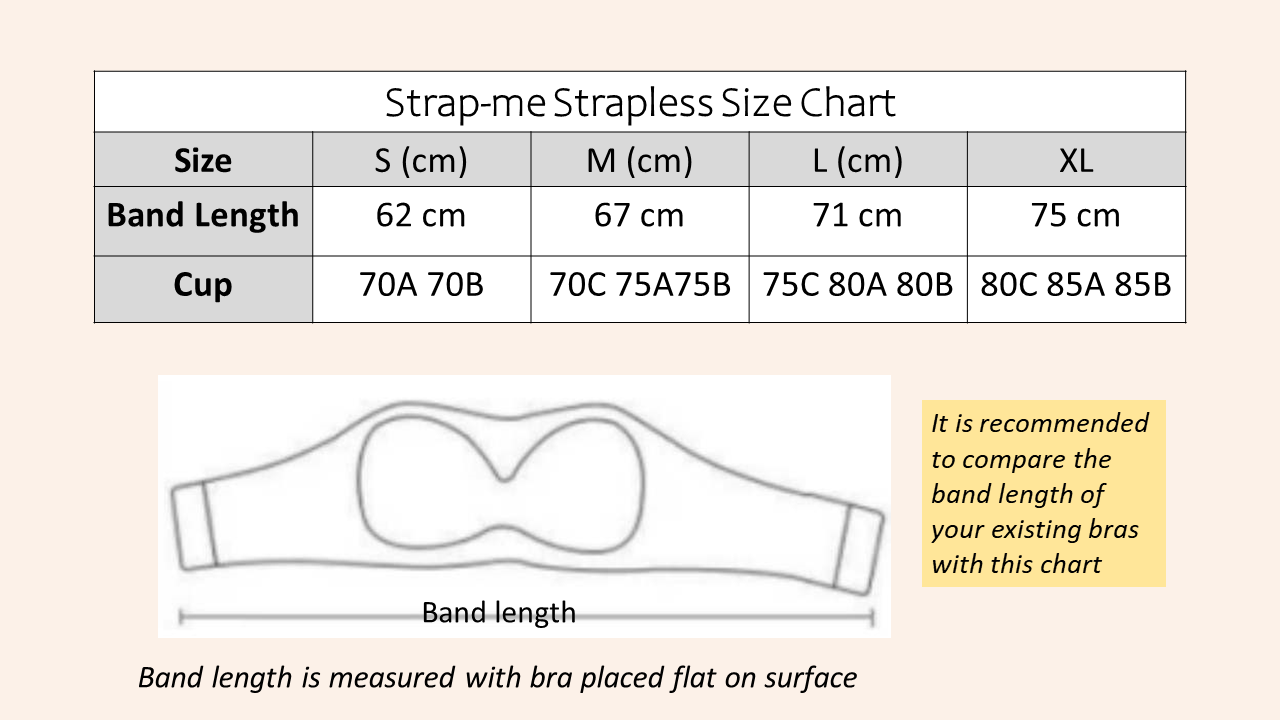 Those with AB cup boobs rejoice! This is perfect for you. Similar to our No-Shift Strapless, it is a bandeau style with the gel-free, anti-slip band around the edges of the bra except that the cups are fully lined. With an extra layer of seamless fabric, this bra makes your OOTD padding-lines free.
*RECOMMENDED STRAPLESS FOR AB CUP
*SEAMLESS EDGES
*ALL AROUND ANTI-SLIP BAND
*SKIN-FRIENDLY
Wear it:
Under sheer or thick clothes
With thin straps or off shoulder tops/outfits
When you go for parties or dances
Description:
90% Nylon, 10% Spandex
Wireless
Seamless
Fully lined with double layer protection 

Non-slip band (no silicon / adhesive glue involved!)
Full cup coverage
3 hook-and-eye for easy wear
Comes with detachable straps (coloured and transparent)
Available in Beige and Black (Beige is lighter colour than in photos)
* Model Day is 164 cm in height, 70C and wears size M for Strap-Me Strapless Bra. 
Everyday Foundation Bra/Everyday bra
1. Do you have 80D?
No. We only provide these sizes 70A - 70D, 75A - 75D, 80A - C, 85B
2. What's the difference between everyday foundation bra and everyday bra?
They are the same in material and quality. Just that the everyday Bra is a bit thicker at the bottom of the padding and the colours are baby colours. Everyday Foundation Bra is more for skin colours.
3. What is your exchange policy like?
You may exchange the item within 14 days of purchase and with tag still intact. Make sure that the item is unworn, unscented and still in perfect condition.
4. Do you have a physical store for me to try?
Currently, we do not have a physical store. However, we have a refund or exchange policy within the first 14 days of purchase. (Applicable only to bras)
5. Which colour is best under white tops?
Always choose the shade closest to your skin colour or darker. Surprisingly, darker shade hides the best under white tops.
6. Is pink porcelain easy to see under white?
Maybe, as the shade may be lighter than your skin.
7. I realise that after wearing there are these creases on the inner cups probably caused by my boobs leaning against the padding. Is this normal?
There may be many factors to this. Might be improper storage or washing, it may also be the size of the cup is too big for you.
8. Is soft copper the darkest shade?
Yes. It is the darkest nude shade.
9. I usually wear 75C cup size, do I stick to the same size for this bra too?
You may stick to your current bra size. However, it is best that your measure your band and cup size using a measuring tape and then refer to our size chart.
10. Is the padding thin? Does it have push up effect?
The padding is medium padding. It has a thickness of 0.4 cm at the bottom of the cup. It does not have a push up effect.
No-shift Strapless:
1. Do you know if No Shift Strapless in cig purple is visible under whilte/light coloured tops?
Our No-Shift Strapless in cig purple is the best to hide under white tops.
Do you have any pop up store that I can try the size out? Currently, we do not have a physical store. However, we have a refund or exchange policy within the first 14 days of purchase. (Applicable only to bras)
2. I wear european 65D, sister size will be 70C, does tihs equate to S or M per your chart?
You may try S size.
3. Can Mums wear this?
Of course! We have women wearing our strapless after their post pregnancy period.
Wildflower:
1. Is the padding thin?
Yes it is thin and detachable.
2. Whats the difference between bralette and bra?
Bralette has lesser support than a normal bra, hence it gives you freedom and the flexibility. Bralettes are born for women who love to let loose their boobs and not be restricted by the normal bra.
3. How come my breasts spills at the side?
Unlike a normal bra, It is because of the thin paddings, hence it allows your boobs to be at their natural state.
Comfy overall but...
Pretty good fit and very comfortable for my first time trying something from Buubees, but the hooks are not the easiest to navigate and quite a hassle to deal with.
Thank you for your kind review!
Super Breathable!
Great Service from Jasmine for the exchange and recommending the Strap-me Strapless. It's very comfy, breathable and stays on well. A must have piece for your buubees! (:
Thank you for the kind review dear!
Comfortable
Super comfy to wear. It is three hooks so great for me. Any more than that, I will have difficulty hooking the bra. Love it that it covers my whole beasts too. Recommended
Thank you for the kind review dear!

Design for comfort
Careful thought put into delivering support and comfort

Quality Check
Products are tested for its precision and durability. Guaranteed survivor amongst your bras

You get what you pay for
Not up yo your standard? Let us know within 14 days of purchase and you will get a full refund
Strap-me Strapless
Choosing a selection results in a full page refresh.